Tuesday, 18/09/2018 | Opening Ceremony
The opening ceremony will take place in the Impressive Philharmonic Hall and you will have the opportunity to listen to parts of the Munich Philharmonic Orchestra during the ceremony.
Afterwards, you are welcome to attend the President's Reception, which is located in the Exhibition Area, where you can enjoy some snacks and drinks.
We cordially invite all participants and exhibitors to the opening ceremony of the conference.
When:
18.09.2018 at 7:00 pm
Where:
Gasteig |Rosenheimer Str. 5 | 81667 Munich
Dress-code:
Business Casual
Act by:
Munich Philharmonic Orchestra -
SEE MORE
Opening Ceremony
Included in the registration fee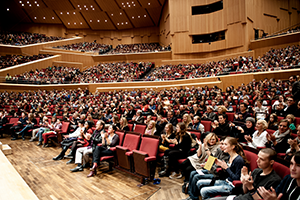 Source: Philharmoic hall: © wildundleise.de